About Us
Boom Boom Thai is the preferred place in Panania's Anderson Avenue for all lovers of authentic Thai cuisine. Some of our signature dishes include Pad Thai King Prawns, Chilli Jam Combo, Super Pad Thai, Creamy King Prawns, Krapao, Salmon, Red Curry Lamb and a few others. We are also known for the eclectic range of Thai desserts we serve. Examples of the same include Back Stick Rice with Thai Custard, Roti & Banana, Deep Fried Ice Cream, and Banana Split. Our Thai cuisine menu also features a number of entrée dishes, soups, BBQs, salads, side dishes, and even some special dishes for kids. Order your favourite meals through our website today!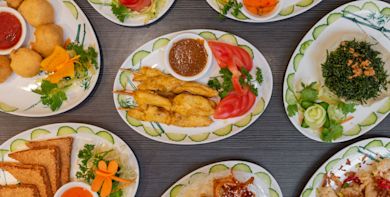 Reviews
Amy
"Thank you so much guys."
Matt
"Definitely comeback again!!!"
Katie
"Food was lovely, didn't mind that it was late. We enjoyed it all the same :)"
We deliver to
2170 Chipping Norton, 2173 Moorebank, 2190 Mount Lewis, 2198 Georges Hall, 2199 Yagoona, 2200 Bankstown, 2200 Condell Park, 2210 Peakhurst, 2210 Riverwood, 2211 Padstow, 2211 Padstow Heights, 2212 Revesby, 2212 Revesby Heights, 2213 East Hills, 2213 Panania, 2213 Picnic Point, 2214 Milperra