About us
Boom Boom Thai is the preferred place in Panania's Anderson Avenue for all lovers of authentic Thai cuisine. Some of our signature dishes include Pad Thai King Prawns, Chilli Jam Combo, Super Pad Thai, Creamy King Prawns, Krapao, Salmon, Red Curry Lamb and a few others. We are also known for the eclectic range of Thai desserts we serve. Examples of the same include Back Stick Rice with Thai Custard, Roti & Banana, Deep Fried Ice Cream, and Banana Split. Our Thai cuisine menu also features a number of entrée dishes, soups, BBQs, salads, side dishes, and even some special dishes for kids. Order your favourite meals through our website today!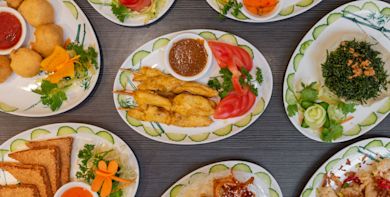 Reviews
Rod
"Local flooding closed some roads and delivery took longer. For the record, I accept delayed delivery due to conditions."
9/02/2020
Eloisse
"The food was nice but the green curry lacked a little flavour."
7/02/2020
Joanne
"Beautiful food, free delivery, great range on the menu.This is my new go to Thai place So glad i tried it."
28/01/2020
Mohamed
"Fast service and amazing food."
25/01/2020